Regular price
Sale price
$83.00
Unit price
per
IN-STOCK
Sold out
Help Me Choose
NOTE:

 
These are our standard SAPPHIRESKATES except with minor cosmetic defects and without the full retail packaging (The plastic capsule is still included, as well as additional spare adhesive). We want to reduce waste in addition to giving you the chance to pick up a set at a significant discount.


Key points about B-Stock:

Performance is not impacted. We still go through the same strict level of QC to ensure that every set performs well and each piece works optimally together.
For B-Stock products, ALL SALES ARE FINAL. We will not accept returns for these.
We think you will be pleased with the quality. These are kitted with our latest most updated quality standards in mind, and come from recent batches out of our factory.
Minor defects are things like small chips on the edges or underside of the skate, which is due to the high RPMs used in the initial shaping process. Other examples are color variation, or slightly misshapen pieces.
Will perform 100% as well as our standard non B-stock products as we ensure the skating surface has no issues.
Sapphireskates Type 2: Precision-curved edges slope into a high-coverage flat surface to maximize area of contact. Ideal for users who prefer to keep the mouse planted on the mousepad rather than lift-off / landing frequently. The caveat is that they require a flatter mouse base and surface whereas our standard skates are forgiving in this regard. With Type 2, we recommend you stack a piece of the spare adhesive as needed to ensure the skates are making good surface contact.
Precision-curved edges slope into a high-coverage flat surface to maximize area of contact.

Comparison of standard Sapphireskates vs. Type 2:
This page is for the fuchsia color (Type 2). For the clear color, go to
this page
.
Note: price difference of Type 2 Clear color vs. Fuchsia is due to cost of the raw crystal.
Universal Fit, 5 dots per set. 3.25 carats of pure sapphire

 

per set (0.65 carats each). Adds only 0.65g of overall weight total.
Diamond-Polished Glide for Lowest Static Friction: each of the mouse feet is individually cut from a single sapphire crystal boule and then polished for hours until reaching its precise final shape.
9 Mohs hardness for consistency that never degrades:

 

on the Mohs scale, only a diamond is harder. Only materials harder than sapphire can scratch it. (Note: this does not mean that sapphire is unbreakable, it can crack under strong pressure but this hasn't yet happened to us). 
Optimized dimensions for sensor tracking + compatibility: SAPPHIRESKATES is designed to work with all gaming mice and therefore has a diameter of 7mm, which is large enough to provide support but small enough to fit into almost any mouse channel. The height curves from 0.8mm at the edges to 1.1mm at the center, which is tested to provide the ideal distance-from-sensor length according to Pixart specifications.
The Most EZ to Apply: after cleaning the bottom of your mouse, it literally only takes seconds to apply SAPPHIRESKATES since the skates come with a powerful 3M adhesive pre-applied, which sit on top of a disk of virgin-PTFE. (And we aren't using PTFE here just to flex, it actually is a great material that is commonly used as adhesive release-liner). No fussing with having to peel off individual stickers.
See this notice for Logitech G-Pro Superlight & GPW Users
NOTICES

The color will have slight variations that will not have any impact on performance. Due to manufacturing process, there may be slight differences between each piece (since it's made from single-crystal gems, injection molding is not possible). However, we QC each set to ensure a smooth glide and synergy between each piece within a set.

It is highly unlikely that SAPPHIRESKATES will crack as this has never happened to us. But unscratchable != unbreakable. If you notice the appearance of cracks, it's usually the adhesive at the bottom not being fully distributed. You can push in the skates to allow the adhesive to settle or can try applying new adhesive.

SAPPHIRESKATES works with soft, medium, and some hard mousepads (if the material is similar to plastic). On surfaces such as glass or metal, you must exercise caution: these surface types must be kept clean in order to get the optimal glide, and if you slam the mouse (while raging, for example) you risk cracking the skates beyond repair. However, even these surfaces will not scratch SAPPHIRESKATES.

Please allow 24 hours to adjust to SAPPHIRESKATES. Most gamers adjust easily to them, but muscle memory still needs to adapt. Also, the adhesive gradually cures and hardens even more. Check for any dust or lingering adhesive that is still stuck to the skates and ensure that the skates are properly seated within the mouse channel (not on the raised side wall).
INCLUDED IN THE BOX

5 SAPPHIRESKATES
Microfiber cloth
Alcohol Prep Pads
Plenty of spare die-cut 3M Adhesive
Sandpaper (you can use this to remove stubborn adhesive, or if you absolutely must, you can manually sand the mouse channel to adjust the sensor height if needed).
FREQUENTLY ASKED QUESTIONS

What is SAPPHIRESKATES?

Premium gaming mouse skates that are made of pure sapphire.

What's the point of them? 

To deliver the most consistent glide that doesn't degrade over time.

Which mouses are compatible with SAPPHIRESKATES?

Just about any gaming mouse will work. The diameter is 7mm, which is the same diameter of the rear channel of the Logitech G Pro Superlight. You can check your own mouse to see if the 7mm diameter can fit within your mouse's recessed channel. 

Some mice do not have a recessed channel. They still have a channel, but it's the same height as the rest of the mouse bottom, such as with the final mouse ultralight 2. In this case, you can put them anywhere on the mouse bottom. 

Why are SAPPHIRESKATES so expensive?

This is a premium gaming product. The goal in developing it was to utilize the best possible material. Sapphire has very unique properties but is also very expensive. The cost of the material is extremely high for a product in the computer peripherals industry. Comparatively, ceramic, glass, or PTFE are virtually free (if you only consider material cost.) More importantly, the difficulty of working sapphire adds to the cost: PTFE, glass, and ceramic can be cast using a mold. With sapphire, it must be cut by a skilled gemcutter and then polished to reach its intended shape. 

Can you get scratches on SAPPHIRE

SKATES?

They are virtually unscratchable. What this means: if two surfaces come in contact, the softer material yields to the harder one. If enough force is applied, permanent deformation occurs (scratches). Sapphire is an extremely hard material and it's highly unlikely that you will encounter anything (except a diamond) that will scratch them. 

Are they unbreakable?

Unscratchable != Unbreakable. With enough force, sapphire can crack beyond repair. If you are the type of gamer that is prone to slamming their mouse when raging AND you use a hard mousepad, then you risk breaking the skates. That being said, in all of our testing, we have yet to break any SAPPHIRESKATES, not even a crack. 

Are there cracks in my skates? 

As mentioned before, we haven't encountered cracks. We know it's possible , but unlikely. However, it can sometimes appear as if there are cracks. More than likely, it's because of the adhesive below not being evenly distributed, or there is debris that is stuck to the skates.

What type of sapphire do you use specifically?

We use extremely pure synthetic sapphire crystal. You may be wondering "why not natural sapphire". But the reality is that synthetic sapphire is far from fake sapphire. It has the exact same structure is natural crystal but without imperfections. That is why synthetic sapphire crystal is almost always used in mechanical and optical applications. Natural sapphire is only used for the flex, as with jewelry. High-end watches like Rolex or Patek use synthetic sapphire crystal to protect the watch itself and use synthetic ruby-sapphire for the watch internal bearings. 

What's the difference between Ruby and Sapphire? 

Ruby and sapphire are the same mineral (Al2O3, crystalline aluminum oxide). Whether produced in nature or in a lab, the ruby red color comes from a process called doping. A dopant is another element that gives sapphire (and other Al2o3 crystals) their different colors. In the case of ruby, the dopant is trace amounts of chromium. The reason why watchmakers use dopants for sapphire bearings is because it's extremely easy to lose sight of a clear crystal. Whether it's called a ruby or a sapphire somewhat depends on purpose and industry.

What type of mousepad works best with SAPPHIRESKATES? 

Soft and medium hardness mousepads work best.

Some recommended pads are: Artisan Hien, Artisan Raiden, and Glorious Elements Helios.

Since the skates themselves are rigid, these surfaces naturally flex elastically, and complement the rigidity of SAPPHIRESKATES. However, in terms of reducing friction, SAPPHIRESKATES perform quite well on any surface, even hard mousepads.

NOTE: we cannot guarantee that they will work with glass or metal pads, or other hard materials as the hardness of sapphire can introduce micro-scratches into these hard surfaces.
EXPLAINING THE DIFFERENCES IN COLOR

Same High Performance for All Colors

First of all, the color differences between SAPPHIRESKATES models are purely cosmetic. However, it's worth explaining why this is the case, and also why blue is more expensive.

RUBY RED VS. BLUE SAPPHIRE (Why is Blue More Expensive?)

Both rubies and sapphire are the same mineral (corundum) whose formula is Al₂O₃. 

The Difference in Semantics - Ruby vs Sapphire

From a language perspective within the gemstone industry, a ruby is a sapphire of a specific red color. Any other color of corundum corundum is a sapphire (for example, blue sapphire or pink sapphire). 

 The Difference in How It's Made

With crystals, you can't simply dye it a different color. You can't paint or coat it because it would change its natural qualities of the surface (in addition to not being as durable as sapphire). Coloring corundum is done with the same process, whether it's done in a lab or in nature: this process is called 'doping' (not to be confused with drugs). 

To color the crystal, a trace amount of a different element must be introduced into the crystal lattice structure. For ruby, the dopant used is chromium. For blue sapphire, it's titanium and iron. Again, this process happens in nature and is also done in a lab. A big part of the reason why gemstones can fetch a wide range of prices depends on the color qualities as a result of the doping process.

Finally: Why is Blue More Expensive

The reason why blue is more expensive is simply because the raw material cost is more expensive for us. To delve a bit deeper, achieving a blue hue is more difficult during the crystal growth process. The blue requires greater precision in the trace amount of dopants that are infused into it. 

What this all means in terms of pricing and availability

Given the greater material cost combined with the desire to give customers more choice, the plan is to make the ruby red color the standard model so that more people can try SAPPHIRESKATES. The blue (and other future colors) are priced based accordingly to our material cost. 

In light of full transparency, we listed blue as a limited model and will try to provide more specifics in the future. As of right now, we are only able to produce very small quantities with the blue color, and will provide notice ahead of time when the final restock of a limited model is happening.
HOW TO USE

1. In a clean & undistracted area, gently lift top layer. Unbox contents.

2. Use prep pads to remove residue leftover from previous mice feet.

3. Install SAPPHIRESKATES. Apply pressure for 10 seconds per skate.

4. Use microfiber cloth to remove any remaining adhesive & debris. You can either use 4 of the SAPPHIRESKATES and keep 1 as a spare, or you can use all 5. Here are some example configurations and placement tips: https://sapphireskates.com/pages/installation-guide
SHIPPING INFO

All products ship from the United States (California).

Warning: no refunds or replacements on International First-Class Mail.

PROCESSING TIME

Most orders ship out in 1-2 business days.

DOMESTIC U.S.
Currently we offer USPS shipping of 3 different tier levels:

-USPS First Class Mail: Arrives in 5-10 days from the time it ships.
-USPS Priority Mail: Arrives in 2 to 5 days from the time it ships.
-USPS Priority Mail: Arrives in 1 Business Day from the time it ships.

INTERNATIONAL

International customers may have the option of USPS, UPS, and DHL and options differ by country. We selected options based on our historical records of failure rates from various countries.

You will be able to view the options available to you at checkout.

Buyers are responsible for paying customs fees if there are any charges, but this is rare.
RETURNS

We understand that for various reasons, our product may not be the best suited for you. Before returning, we do encourage you to email ken@sapphireskates.com for product troubleshooting. But we certainly accept refunds for products returned to us, required that the buyer pays for return shipping. For international customers selecting USPS First Class Shipping only: All sales are final. (unfortunately, this method has resulted in lost packages - use at your discretion).

Details:

Returns of undamaged product are accepted within 14 days, starting from the time when you receive the product.

Product must be shipped back to us with the original inner capsule with all of the pieces inside. The rest of the packaging is not required.Please email kristine@sapphireskates.com to initiate a return.

Upon us receiving the product, we will reimburse the customer the cost of the product not including taxes, minus the cost for return shipping (if buyer has not yet paid for return shipping).

For example, if the customer purchased 1 set of Ruby Sapphireskates, we will refund them $49.99 USD. 
MOUSEPAD COMPATIBILITY

SAPPHIRESKATES works with most mousepads. It's a great fit for both cloth pads and hard pads. It does NOT work with glass or metal mousepads as the sapphire will scratch these types of materials.

Due to sapphire's supreme hardness, surface contact with a hard and rigid material will cause this material to yield to the sapphire, which results in permanent deformation (scratching).

However, a material like plastic will work with sapphire, due to it having some amount of flex. This results in temporary elastic deformations. This is true not only of sapphireskates, but when you consider the interaction of materials between any two surfaces.

For those seeking to minimize friction, a hard pad like the Glorious Helios will be the fastest with sapphire. For cloth pads, mousepads such as Artisan Hien Mid and Raiden will provide a smooth and relatively fast glide.

To increase speed on a cloth pad, ensure that the mousepad is laid out / pressed down as close to the table surface as possible.
View full details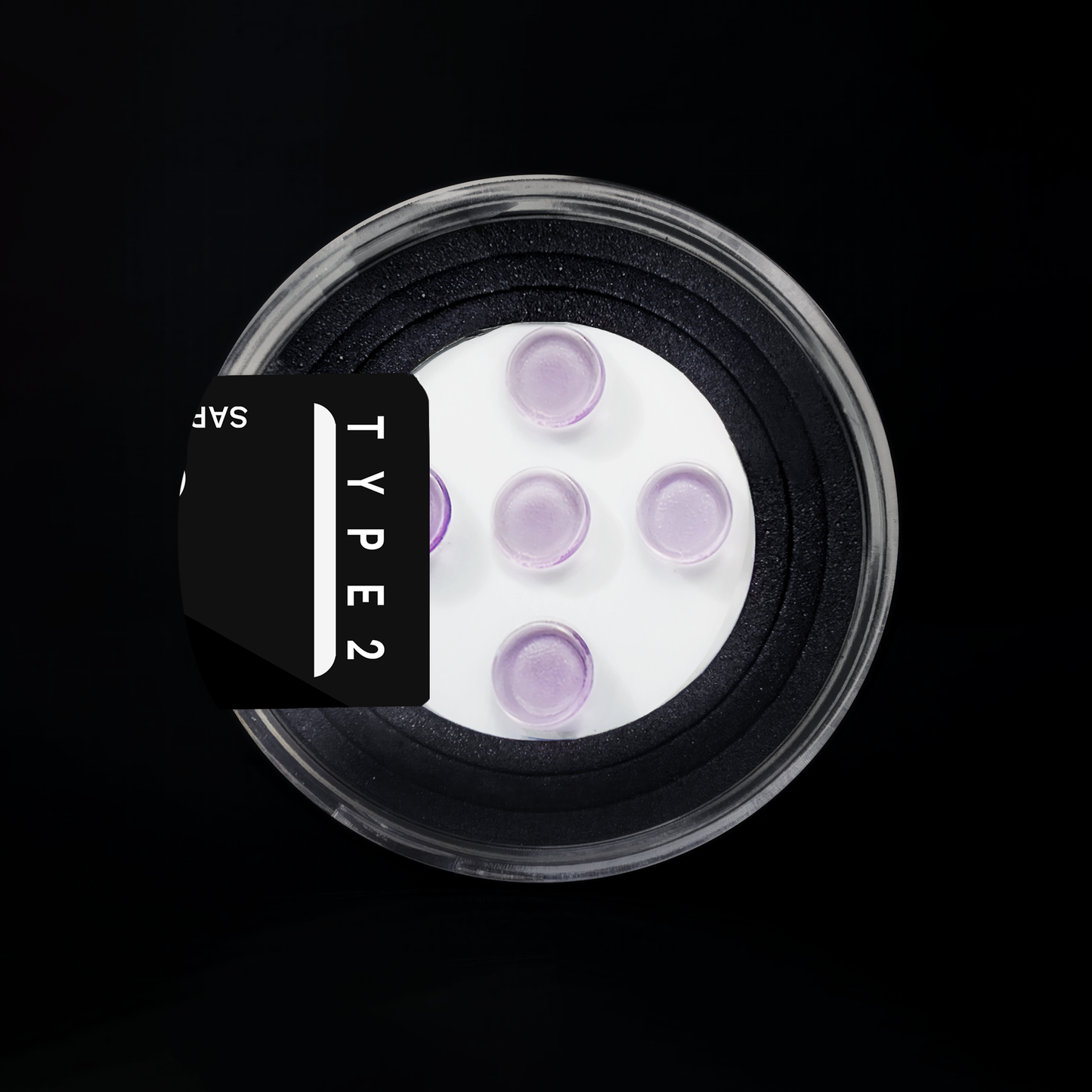 Which SAPPHIRESKATES Should I Buy?
We now recommend our Ruby SAPPHIRESKATES Gen2 which is an improved version of our original best-selling Ruby SAPPHIRESKATES. This will offer the most price-to-performance and has a shape that has the benefits of both our original and Type 2 design with virtually no drawbacks.
Below is more information on other products in our lineup. Please note that we don't always have these available, but if customers are interested, we may bring them back in the future.
We offer mouse skates made from a variety of gemstones and a few different profiles (shapes).
STANDARD

⬇

TYPE 2

⬇

Material:
Sapphire

⬇

Material:
Cubic Zirconia

⬇

Material:
Moissanite

⬇

Material:
Sapphire

⬇

Color: Ruby


⬇


Color: Black


Color: Gold


Color: Clear



Color: Blue


Color: Fuchsia
For great value and a drier feel go with CZ - while sapphire feels slick (despite not having nor requiring lubricant), CZ feels dry but still very low friction. The feeling is like when your hands are extremely dry and there's very little friction when you rub them together. The friction is just slightly higher than sapphire. Also, the black color that is possible with CZ is quite unique and not possible to do with sapphire. 

Choose Type 2 if you want more support and generally keep the mouse flat - We created Type 2 since it was a common request. The benefit is that you get more support, especially if you use a heavier mouse or push down on your mouse. The downside is that the less-rounded shape means that dust and debris may get in the way. It also requires more load-balancing to work optimally (on all of our skates, we height-match the pieces in each set precisely, but there is still variance in the base of the mouse). The Clear color Type 2 will give you the same performance as Fuchsia but at a lower cost.


Specialty Choices - Moissanite (Flexskates) is a special item for those that appreciate quality gemstones, in addition to even greater scratch-resistance and durability than sapphire. However, the static friction is a bit higher than sapphire so they are recommended as a "control" type skate. Some of the more expensive colors (blue sapphire and Type 2 Fuchsia) should be chosen if you simply like the colors. These colors have greater material costs and are more expensive to produce. (Note: the color will never wear off and won't influence the performance. The dopant is interlaced within the crystal structure at trace amounts.)
Looking for the best possible performance regardless of price? Check out our Secret Shop for Match-Grade Sapphireskates which are co-polished for up to 72 hours.
Sapphire vs. Glass
| SAPPHIRE | GLASS |
| --- | --- |
| ✅ More resistant to moisture | ❌ Less moisture resistant |
| ✅ No surface coatings | ❌ Often relies on surface coatings that wear quickly |
| ✅ Greater scratch resistance | ❌ Less scratch resistant |
| ✅ Uniform single-crystal structure | ❌ Random amorphous / polycrystalline structure |
ABOUT THE ADHESIVE The adhesive we are custom die-cut dots featuring 3M's 300LSE acrylic adhesive. 300LSE is one of the industry-standards for adhesives on mouse skates. If you have a...

ABOUT THE ADHESIVE The adhesive we are custom die-cut dots featuring 3M's 300LSE acrylic adhesive. 300LSE is one of the industry-standards for adhesives on mouse skates. If you have a...

Table of Contents Product Overview How We Designed Sapphireskates Gen2 The Rounded Edges An Ultra-Gentle Gradient Between the Skating Surface and Edge New Manufacturing Process How Low is the Friction...

Table of Contents Product Overview How We Designed Sapphireskates Gen2 The Rounded Edges An Ultra-Gentle Gradient Between the Skating Surface and Edge New Manufacturing Process How Low is the Friction...

At Sapphireskates, we try to keep friction low, but as you may know, there are many factors that can contribute to friction. Even if you have the perfect low-friction pairing of mouse skates with a...

At Sapphireskates, we try to keep friction low, but as you may know, there are many factors that can contribute to friction. Even if you have the perfect low-friction pairing of mouse skates with a...
Choosing a selection results in a full page refresh.
Opens in a new window.